Cost: £20 per head Minimum: 10 children, Duration: 2 hours
Overview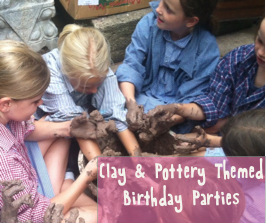 We tailor the occasion according to your child's interests. Examples of themes we've done in the past are 'Treasure Islands', 'Wonderful Winged Creatures' and 'Pop Art Profiles ' (a hit with teenagers).
Tote-bag designing in paint or print is a also a very popular end result. We also offer pottery themed parties, where the children can have a go on the pottery wheel.
Age Groups
We accommodate all age groups and provide a fully equipped studio for the art session.  Most families bring their own drinks and cake, which they can serve in a separate reception room. We can also arrange catering if you'd rather just turn up.
Timing
During term time parties take place either on Saturday or Sunday afternoons for 2 hours usually from 1-3pm.
We keep them engaged from beginning to end, with a 15 minute break.
Art Techniques & Mediums
During the workshop we explore a variety of mediums and techniques starting with  drawing, developing ideas on canvas or cloth (a tote bag or t-shirt wrapped as a surprise). We can also offer printmaking  with the etching press or screen printing for older children.
There is also the option of getting hands magnificently messy with clay! The children  make a mixed media piece bringing their ideas to life in a 3D form to take home as the last activity of the party.
We can cater for children as young as 3 up to grown ups! However if you want to have more than 4 adults attend we do ask for an additional £10 per adult and invite the grown ups to take part.
For further information email us using info@kitestudios.org or even better give us a call on 020 85766278.