Saturday:
Cost: £20 per head | Minimum 10 children | Duration 2 hours
Sunday:
Cost: £25 per head | Minimum 10 children | Duration 2 hours
Parties usually take place on Saturdays and Sundays, We can do other days depending on availability -just give us a call.
We accommodate all age groups and provide a fully equipped studio for the art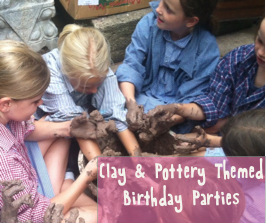 session.  Most families bring their own drinks and cake, which they can serve in a separate reception room. We can also arrange catering with our local cafe if you'd rather just turn up without the fuss.

Art in a story (2 – 4 yrs)
We base this 2 hour session on our 'art in a story' class (Thursday & Friday mornings – see timetable) e.g Anansi the spider, Jack and the beanstalk, The Princess & the frog.
Children arrive and get involved in a 'conversation in drawing' infused with music and rhythms then we start the story once they've all arrived.
First activity involves making a house for the character e.g hat house which they can wear.
The story continues involving painting, clay work & musical elements.
They have a 15-20 break with food in reception.
They finish the story making a item with clay, glue glitter and mixed media.
Some parents like to leave time for a tradition party game such as 'pass the parcel'
End with a birthday cake which you can bring with you.
By the end of the session children will have 3 pieces to take home.
Art Parties (5 yrs +)
We tailor the occasion according to your child's interests. Examples of themes we've done in the past are 'Treasure Islands', 'Wonderful Winged Creatures' and 'Pop Art Profiles ' (a hit with teenagers).
Children turn up and get involved in a 'conversation in drawing' inspired by the theme, once they've all arrived we start the design.
Each child makes a design for a headpiece which we call a wearable sketchbook.
They use their design to make a drawing on canvas which is then painted (using painting techniques)
Whilst there work dries they have a 15minute break with food in reception.
They unmask their paintings to discover a tote bag.
They develop there design in clay and mixed media.
The get to take home their bags of creative goodies!
Teenagers Tie Die & fashion label design (ages 13 +)
On arrival they are inspired by the brief to create a tie die t-shirt and design a fashion label.
Art Techniques & Mediums
During the workshop we explore a variety of mediums and techniques starting with  drawing, developing ideas on canvas or cloth (a tote bag or t-shirt wrapped as a surprise). We can also offer printmaking  with the etching press or screen printing for older children.
We can cater for children as young as 3 up to grown ups! However if you want to have more than 4 adults attend we do ask for an additional £5 per adult and invite the grown ups to take part.
For further information email us using info@kitestudios.org or even better give us a call on 020 85766278.