Click and Collect Cactus Pot Clay Kit
£50.00
By Kite Inclusive
At Kite Studios, our teachers and volunteers have been working with a group of neurodiverse young adults to teach them new skills, develop their confidence and provide them with meaningful occupation at Kite Studios. Together they are preparing tools, equipment and materials for our workshops, including this Cactus Pinch Pot clay project kit.
Our Cactus Pinch Pot Clay Kit comes with all the materials and key equipment that you need to make some fabulous pots for small plants. Emilia, one of our pottery teachers has created step-by-step online tutorial to guide you through the process. The link will be sent to you in your purchase receipt.
Online tutorials
Cactus Pots Project 1 – our simplest project aimed at families/younger potters
This project takes inspiration from the paintings of David Hockney and there is also the option to make a minion, if you prefer!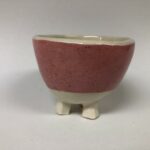 Cactus Pots Project 2 – aimed at teenagers or anyone who wants to make something nice for their house
This project is inspired by Japanese Karesansui gardens – COMING SOON
Cactus Pots Project 3 –
This project is inspired by the story The Owl and the Pussycat – COMING SOON
Each pack contains 3 x coloured slips (jet black, snow white, royal blue) so you can decorate your pot at home. Want more colours? Consult the colour chart above and click on the links below.
Once you've made and decorated your cactus pots, you can bring them to Kite Studios and we will bisque fire them, dip glaze them with clear glaze and glaze fire it ready for you to collect. Voila!
What is included in the Cactus Pinch Pot Kit:
2kgs white earthenware clay
1 x hard bristle paint brush
1 x soft bristle flat paint brush
1 x fine paint brush
1 x large sponge
1 x small sponge
1 x material for covering your work surface
1 x plastic card
1 clay cutting line
1 x wooden knife
1 x satay skewer
4 x cardboard squares
3 x coloured slips (40ml each – jet black, snow white, royal blue)
1 x pottery chart
1 x plastic bag
Extra Slips: