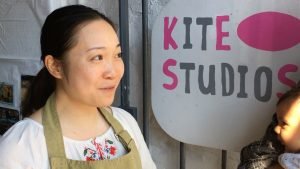 Have you heard of Clover Lee?
She was on the BBC Great Pottery Throw Down TV show and made it to the final round. We are excited to announce that Clover will be joining the teaching team at Kite Studios.
Clover will be teaching every Tuesday, starting on the 25 April 2017. On those Tuesday's she will teach the pottery term time classes and also be available for bespoke 1-to-1 bookings. You can book a Tuesday session with Clover online.
Learn and ask questions as Clover takes you through the steps for creating ceramic pieces on the wheel. A bit more about Clover:
She was born in a small town in southern China – and moved to Wales in 2003, to study accountancy.
The 33-year-old moved to London after graduating, and her interest was pricked when Clover attended an evening class at Clapham Pottery in 2011. Clover is proud of her Asian heritage and creates a mixture of functional and stunning items – such as bonsai planters, decorative vases, sake sets, mugs and tableware.
She says she is "inspired by the traditional art and culture of China and Japan". As well as pottery, Clover is a self-taught illustrator.