Overview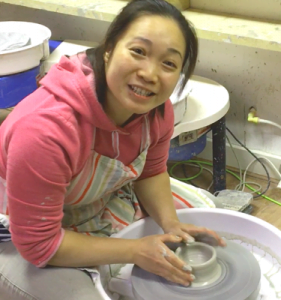 This 6 week throwing course is suitable for complete beginners to more experienced students. It aims to improve learners' throwing skills. Beginners will focus on throwing cylinder shapes, practising centering, opening and pulling, followed by exploring other shapes. Those with more experience will continue to explore their creativity producing more difficult shapes such as vases.
The course is taught by Clover Lee, a finalist on the BBC Great Pottery Throwdown TV show.
Class plan – Taught by Clover Lee
Learners will: develop their confidence through perfecting throwing techniques and being creative.
Kite Studios will: facilitate learners to achieve their individual learning target with tuition, equipment and materials, and possible to extend the course to suit learners' needs.
1.    Week 1
The initial session aims to get learners to familiarise with working in a pottery studio equipped with pottery wheels. Learners will be guided for an induction of the studio, health and safety rules, throwing equipment, tools, as well as preparing clay for throwing, and basic throwing on the pottery wheel. Tutor will complete initial assessment of all learners and suggest an individual learning plan for each learner. No works will be kept for this session.
2.    Week 2
In this session, learners will continue practicing centering and will progress to practice making cylinders towards the second half of the session. Tutor will choose the best piece to keep from each learner for the trimming session.
3.    Week 3
Learners will continue practising throwing cylinders in this session, aiming for better shapes and finishing. Learners will also be encouraged to make an identical pair of cylinders, which later can be turn into a set of mugs. The best two pieces will be kept for trimming session.
4.    Week 4
Learners will explore throwing bowl shapes, and will be encouraged to make a set of bowls, either identical shape and size or as a nesting set. The best four pieces will be kept for trimming session.
5.    Week 5
Learners will explore throwing tall objects, alternate shapes to achieve more complicated object such as vases and jugs. The best two pieces can be kept for trimming session.
6.    Week 6
In this session, learners will be guided to learn trimming and refining the shape of their works at leather hard stage. Tutor will demonstrate turning, and making and attaching handles. Learners who wish to practice more throwing can choose to not trim their works but carry on throwing.